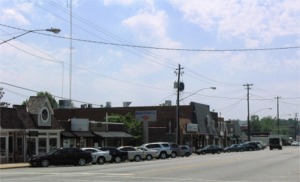 Welcome to Tucker Georgia! We invite you to explore this charming town that takes pride in its community and tradition.
This site was created by residents of Tucker who care for and love this city. We want to provide the inside scoop of our town so that you will come and visit and find out why we think Tucker is so special. If you are already a resident, we hope to provide you with a one stop shop for all things Tucker, from local events, utility info, clubs & organizations, real estate and future development.

Tucker is located 14 miles northeast of Atlanta and has approximately 26,000* residents. The community centers around Main Street which is comprised of locally owned shops and restaurants. Every year, Main Street is the centerpiece for our Tucker Day festival where residents and visitors alike enjoy our hometown parade, arts, crafts, food and live music. Tucker High School is located at one end of Main Street at the intersection of Lavista Road and has recently been rebuilt into a beautiful new building. Tucker also has several beautiful parks with recreational activities for the whole family.
*According to the 2000 U.S. census.
Feel free to contact us with any questions.