TUCKER AND DEKALB COUNTY NEWS
---
TUCKER--May 6, 2011.
Tucker High ranked 755 in USA by Washington Post
James Jackson, Principal, Tucker High School, Dekalb County School System, reported 7 DeKalb Schools made this list. Other sources aledge that that is out of 37k+ high schools.
Congratulations to Tucker High!
For more info cf. patch.com

---
TUCKER--May 6, 2011.
Tucker Historical Society's Garden Tour
Today Harry Powell, President, Tucker Historical Society, reminded us that today (Friday) is our last day to get our advance tickets for Tucker Historical Society's Garden Tour. The tour is tomorrow, Saturday, May 7th, from 9 am to 5 pm and there are 5 private gardens to visit as well as the Master Gardener's Butterfly Garden at Browning Courthouse on Lavista Road at the Tucker Recreation Center.

The gardens on this year's tour are Becky and Aubrey Daniels - Winding Woods, Pat and Pete Nacker - Idlewood Acres, Renee and Denny Hopf - Millstone/Smokerise, Tara Dillard - Hunters Vineyard/Stone Mountain, Doug and Christine Davis - Westhampton.

Advance Tickets are $10.00 each at the following businesses; Tucker Flower Shop - Idlewood, Starblaze Jewerly - Hugh Howell, Tucker Pet Supply - Main St., Custom Frame Shop - Main St., My Friends Place - Northlake Festival, Brockett Square Barber Shop - Lawrenceville Hwy, Bena'a Hallmark Shop -Hugh Howell. Check or cash is accepted for the tickets.

Tomorrow, Saturday, May 7th tickets are $15.00 each. Most businesses will be open tomorrow and tickets will also be available at the gardens.

We hope you have a chance to attend the tour and enjoy your day and Mother's Day weekend!

---
DeKalb Schools Reorganization Announced
TUCKER--January 6, 2011.
Subject: MAJOR changes coming to DeKalb schools!!!
Schools will be closed, almost all boundary lines will be redrawn and the magnets may be moving!
The DeKalb County School System has released so much information and data in the last few weeks, it's hard to know where to start.
First, they have posted the results of all the public charrettes and the online survey. Click here.
Next, they have physically evaluated and ranked all the schools in great detail. Click here. Under the paragraph about the site reports, click on the centered blue link to see the individual school reports (it's an easy link to miss).
Monday they presented two different draft plans for school consolidation/redistricting.
The "centralized plan" consolidates all of the high achieving magnet programs into a centralized location in Avondale. It changes the boundary lines for just about every single school in the County and includes 14 school closings.
The "decentralized plan" leaves the magnets in place and does not change as many lines, but still, it's dramatic and 11 schools close.
Click here for a basic comparison between the two plans.
There is so much more information and data posted online - it will make your head spin. The maps are fascinating and worth studying. Click here to see it all.
The plan as of now is for the Board to vote on Feb 28th. There will be a series of public input meetings starting on January 11th and we encourage everyone to attend. Click here for the schedule.
Thanks!
- DeKalb Parents www.dekalbparentsareunited.com
ps. If you have 10 minutes (or a few hours) to kill, please visit the School Watch Blog and read what everyone is saying about all of this.
---
TUCKER--January 6, 2011.
Livsey is on the list of school closures...
http://www.ajc.com/news/14-dekalb-schools-on-794187.html
see also http://savelivsey.com/
---
TUCKER--November 29, 2010.
Old Norcross Tucker Road closed
Dec 6, 2010 thru Jan 30, 2011 by Atlanta Gas Light(according to DeKalb County) and probably just to through traffic.
Art Ames with Benton of Georgia says that they are in construction for AGL renewing old pipe. You may have noticed the work done recently on Chamblee-Tucker Road. On C-T they were able to move the pipes from the middle of the road to the side and with it being a four lane road there was room to get around them. Such is not the case with Old Norcross. They will be right down the center and there will be holes to be careful of.
The construction will actually be 2000 feet from Highway 29 to Pine Lake. The detour will go through Pine Lake and come out on LaVista. People whose homes are in the affected area will still be able to get in and out but they will have to wait for the flag crew to let them through.
Our thanks to Art and Atlanta Gas Light for getting this infomation to us quickly.
---
November 8, 2010
GERMAN BAKERY RE-OPENS
The Tucker German Bakery nearest to Tucker that closed last year has finally re-opened.
The bakery is under new ownership but most of the employees are back and the treats are the same with the added addition of sandwiches to the fare. Eclairs, brownies, petit fours, apple strudel, German brotchen are all delicious. Let us know what you get and how you like it if you go.
Take Lawrenceville Highway down from Tucker over i-285 till you get to the Home Depot on the left followed by the closest-Krystal-to-Tucker and then take a left. Half a block down on the left you will see the bakery. Enjoy!
German Bakery, Welcome Back.
---
November 8, 2010
TUCKER KRYSTAL CLOSES
The Tucker Krystal is closed.
Workmen were taking down the Krystal building parts this morning. There was a steady stream of would-be customers turning in the parking lot then turning around and leaving. Krystal employees were helping with the dismantling.
It is a permanent closure. One of the employees said the landlord raised the rent and it was too high. Most of the employees will be moving to the Snellville Krystal on Hwy. 78--Jean, Mabelene, and Kelly to name a few. Some will go to the Krystal in Decatur on Lawrenceville Highway.
The Lawrenceville Highway United Methodist Church breakfast group is now meeting at the other Krystal on Lawrenceville Highway Inside the Perimeter next to the Home Depot near North Druid Hills. No word yet where the other church groups that usually meet at Krystal will be going. If you know please contact us so that we may post it here.
Krystal, we will miss you.
---
October 23, 2010
KEEP DEKALB BEAUTIFUL/ADOPT A ROADWAY
There is a sign or two on Old Norcross Road that indicates that it is part of the ADOPT A ROADWAY program in DeKalb County. This is an anti-litter project that aims to keep our county clean. The Lake Ivanhoe Garden Club adopted Old Norcross Road and has maintained it from Lawrenceville Highway to the Gwinnett County Line for over 15 years.
Thursday and Saturday several weeks ago seven members and friends cleaned up the sides of the road. They picked up eight bags of litter: one bag of recyclables, seven bags of assorted trash, and many cigarette butts. It took two and a half hours.
Here they are "straightening" the sign with the collected litter in the front.
left picture: L to R: Judy Lemoine, Banner and Jean Smith, Nancy Barnes
---
September 9-12, 2010
YELLOW DAISY FLOWER SHOW AND FESTIVAL
Hope you did not miss the Yellow Daisy Flower Show this year. Click Here for some pictures for you to enjoy.
---
August 17, 2010
Tucker BE PREPARED DEKALB Fall Festival
9/11 Memorial, Public Safety Recognition, and Emergency Preparedness Fair
You are invited to attend a special day in memoriam, recognition, and preparation. As part of Dekalb Emergency Management Agency's launch of its BE PREPARED DEKALB? program, they are sponsoring a free and open-to-the-public Fall Festival with fun, educational, and exciting sessions during the day-long event: DATE:       Saturday, September 11, 2010
TIME:       9:00 a.m. to 2 p.m.
LOCATION:  The Church of Jesus Christ of Latter-day Saints
ADDRESS:    1947 Brockett Road Tucker, GA, 30084
The 9/11 Memorial and Public Safety Recognition is from 9:00am-10:00am and features a memorial service by Dekalb County Public Safety leaders to those who have fallen in the line of duty, as well as a recognition of those who now serve in the line of duty.   Please arrive by 8:30am for free parking at nearby churches and schools.
The festival that follows will feature interactive booths, displays, and Emergency and Disaster preparations taught by public safety leaders and their Dekalb County volunteer groups.  A Children's carnival will feature inflatable bouncing rooms, face-painting, Atlanta Braves T-Ball Alley, Ready Kids programs, Trained Rescue Dogs, and a preparedness treasure hunt with prizes for all children.  Public Safety vehicles of all shapes and sizes will be on site to tour including Dekalb Fire and Rescue Trucks, Ambulance, Fire Safety house and Tornado room.  The North Decatur Lions club is providing free limited eye/ear screenings. Georgia Power, the National Weather Service, UGA's Cooperative Extension, and GA VOAD are among the many that will display or talk with attendees on prevention and preparedness measures.
We gratefully acknowledge the support of both Dekalb County Public Schools and Dekalb County Public Library System in getting the word out to the public as we strive for a cohesive national, state, county, and municipal public safety effort. 
Free hotdog lunch while supplies last.  Participants may register for free drawings and giveaways all day.  All sessions are free and for everyone; adults, seniors, the disabled or displaced, children and youth no one is excluded and no one is excused, let's BE PREPARED DEKALB!
For further information, please contact:

Dena Brett
Event Public Affairs Director
BE PREPARED DEKALB Fall Festival
denabrett@yahoo.com 770-842-4752
---
July 27, 2010
Wal*Mart redecorating. McDonald's/out, Subway/in
TUCKER—Our Wal*Mart at Cofer Crossing is cleaning up and fixing up. Everything is being moved and rearranged. The drug store has been moved to the right side of the store where ladies' wear used to be. The McDonald's has been closed and dismantled and we have been told that when everything is finished there will be a Subway instead.
EMBRY HILLS--The Arby's is now a Wendyburger/Arby's combo. The Arby's on Lawrenceville Highway at Fellowship is now a car wash and the one further out just past Mountain Industrial is also closed.
---
June 11, 2010
LAKE IVANHOE GARDEN CLUB CELEBRATES NATIONAL GARDEN WEEK
TUCKER—Lake Ivanhoe Garden Club, member of the DeKalb Federation of Garden Clubs, Inc., Redbud District, and The Garden Club of Georgia, Inc., supports the National Garden Clubs, Inc. sponsorship of the National Garden Week which is the first full week of June each year. Lake Ivanhoe co-Presidents Mary Jane Shearer and Sandy Suggs presented a plaque to Ken McCullers, Assistant Branch Manager, to be displayed at the Tucker-Reid H. Cofer Branch of the DeKalb Public Library to remind the public to celebrate National Garden Week and plant a garden. Several books on gardening are available at the branch.
The Garden Club of Georgia, Inc. is comprised of 550 member clubs with 15,000 members statewide. Their mission is to promote beautification, conservation, and education through gardens.
---
May 31, 2010
GARDEN CLUBS REMEMBER VETERANS
DECATUR--Members of The DeKalb County Federation of Garden Clubs, Inc. recently placed patriotic ribbons on the two Blue Star Memorial Markers that the Federation sponsored in 2007. The bows were placed on the markers at the Veterans Medical Center on Clairmont Road and at the DeKalb History Center on the Decatur Square.
The ribbons were placed on the Memorial weekend as reminders of the sacrifices our servicemen and women have made for our country's freedoms.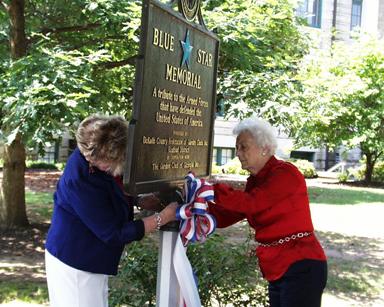 left to right: Jean Smith, Past President of DeKalb Federation (2007), Wilma Coney, current President of the DeKalb Federation.
---
April 16, 2010
DeKalb County School Board searching for new superintendent
DEKALB COUNTY Today the DeKalb County School Board voted unanimously to terminate the employment of the current superintendent and begin a search for a new one.
---
April 5, 2010
Calendar updated with April and May activities in Tucker
DEKALB COUNTY/TUCKER Check the calendar for info on the Tucker Historical Society Plant Swap and the lastest info on Tucker Day. More items listed there daily. Let us know if you have an event that needs to be listed.
---
April 3, 2010
Sign Ordinance Compliance
DEKALB COUNTY/TUCKER Businesses in DeKalb and the Tucker area need to be aware that signs for businesses require a permit. Last year a number of businesses received citations when they were not able to produce their permits.
For more information contact DeKalb County.
---
March 24, 2010
Handy Hardware now open in new location
DEKALB COUNTY/TUCKER Handy Hardware, the ACE hardware store that has all the bits and pieces you need to keep your house in tip top shape, recently moved from its long-time location on Hugh Howell Road to around the corner into the old bowling alley building on Cowan Road. The move took place over a number of weeks but was finally complete around September 1, 2009.
---
March 4, 2010
Northlake Taco Bell Closed
DEKALB COUNTY/NORTHLAKE The Taco Bell at Northlake Tower Festival is closed. This is a permanent closure. There is still a Taco Bell at Embry Hills and at Cofer Crossing. No other information is available at this time.
---
January 13, 2010
Open House at "New" Tucker High School
DEKALB COUNTY–Citizens are invited to the Open House at Tucker High School on Thursday night, January 14 from 5:00 to 7:00p.m.
Plan to view the school by taking a guided tour of the new facililty.
---
September 22, 2009
SHELTER OPEN AT CLAIRMONT PRESBYTERIAN
DEKALB COUNTY–Citizens who live near Nancy Creek, Peachtree Creek, the Yellow River, and the South River are urge to voluntarily evacuate their homes.
A storm shelter is open at Clairmont Presbyterian Church, 1994 Clairmont Road, 30345.
For aid or to report flood damage call 678-406-7850 or 678-406-7853. Call 311 or 404-294-2311 for info on county services.
To give or get aid for storm victims go to Atlanta Red Cross
---
October 6, 2008
NORTHLAKE MEDICAL CENTER REOPENS. NOW EMORY UNIVERSITY ORTHOPAEDICS & SPINE HOSPITAL
TUCKER –Emory Clinic has reopened the hospital on Montreal Road as an orthopedic hospital and spine center. NO EMERGENCY ROOM.http://www.emoryhealthcare.org/hospitals/euosh/index.html
---
June 5, 2008
AIR SHOW AT PDK SATURDAY, JUNE 7TH
The Peachtree DeKalb Airport will host Air Show and Open House
Saturday, June 7th from noon till 5 PM the public is invited to the Peachtree DeKalb Airport. There will be food vendors and antique planes, there will be planes in the sky doing tricks. Parking is $3.00 and admission is free.
This is an annual event. No one at the airport knew for sure but they thought it had been helf for twenty-one years or so with the exception of one year due to construction.
If you can't make it Saturday, the public is also invited to the park at the end of Airport Road where there is an observation deck. There is no charge to enter the park or the deck and they are open from Sunup til Sundown.
Enter the airport through the south gate off Clairmont Road at the light at Airport Road. . Take I-85 to Clairmont Road exit and go west past Sam's Club, across Buford Hwy and Dresden Drive. The airport entrance will be on the right just past where the 57th Fighter Squadron used to be. 770-936-5440.
---
Marta Public Meetings Scheduled for June
---
MAY 13, 2008
MY FAIR LADY CLOSES
TUCKER –The Tucker Women-Only Spa closed its doors a couple of months ago. The closing was unexpected. No other information is available.
---
MAY 16, 2008
ROLLING OUT THE RED CARPET
The DeKalb Office of Economic Development Welcomes Dinner Theatre
The DeKalb Office of Economic Development and The Tucker Business Association welcomed Movie Tavern at The Northlake Festival Shopping Center at 4043 LaVista Road on Thursday, May 15
Movie Tavern which will open its first dine-in theatre location in Tucker. Movie Tavern is the leading operator of cinema eateries in the country combining the enjoyment of first-run movies with a first-rate, dining experience. Movie Tavern guests will enjoy a full menu of chef-prepared Classic American favorites while they enjoy first-run feature films in state-of-the-art, comfortable auditoriums. Proceeds from drink sales will benefit the Tucker Business Association Scholarship fund, which awards scholarships to Tucker High School seniors.
---
MAY 9, 2008
DEKALB TO REQUIRE INDIVIDUAL WATER METERS AND SUB-UNIT METERS FOR NEW MULTI-FAMILY DWELLINGS, JUNE 1, 2008
DECATUR – During the March 28, 2008, DeKalb County Board of Commissioners approved a plan requiring all new multi-family buildings (i.e. apartments, town homes and condominiums) be built with individual water meters or sub-unit meters that will bill the customer based on the volume of use. This plan will be effective June 1, 2008, for all new building projects.
The new plan will allow water use in each unit of a multi-family building to be tracked and for each resident to be billed for his or her actual water usage. Individual meters and sub-meters will benefit DeKalb County residents because each resident will now be billed individually for actual water usage as opposed to billing based on usage for an entire building. The new meter requirement will also enable the Department of Watershed Management (DWM) to locate possible leaks if unusually high water usage is detected.
This new plan will ensure that residents of apartments, townhomes and condominiums are responsible for his or her water usage. The new plan will also help hold individual tenants accountable for non-payment of association fees without punishing other residents.
For more information, please visit www.dekalbwatershed.com or contact Sandra Leavell, Watershed Management Public Information Officer 770-621-7263.
---
MARCH 31, 2008
DEKALB APPROVES NEW TUCKER OVERLAY DISTRICT
Project to Create Economic Development and Job Opportunities
DECATUR – The DeKalb Board of Commissioners, under the leadership of Chief Executive Officer Vernon Jones, approved a new Tucker Overlay District, which paves the way for the revitalization of the entire Tucker area.
The DeKalb Office of Economic Development and the DeKalb Planning and Development Department joined the Main Street Tucker Alliance, the Tucker Business Association and Tucker Civic Association in developing the Tucker Overlay District.
"The residents of Tucker have worked long and hard with the County to develop these changes," said CEO Jones."I applaud these stakeholders for their initiative and look forward to helping other communities plan their vision for future growth."

The overlay district was the final step in implementing the result of a Community Choices award by the Atlanta Regional Commission to DeKalb County. The boundary of the Overlay was identified by the Atlanta Regional Commission (ARC) Livable Centers Initiative (LCI) in 2005 and adopted by DeKalb County in July 2007.
The new Tucker Overlay District amends the DeKalb County Code of Ordinances governing zoning in the Downtown Tucker Area. The overlay district protects the area from encroachment of incompatible uses and structures, and ensures compatibility of the heights of structures within Downtown Tucker and nearby residential areas with general redevelopment which occurs around new mixed use developments. This, in turn, will create a positive real estate investment climate, stimulating economic development and job creation.

The Tucker Overlay District is based upon the urban design and development guidelines included in the Downtown Tucker LCI Plan, which incorporates higher density development in the Downtown Tucker Area while providing a mix of commercial, office, recreation, and housing options. This includes designing and arranging structures, buildings, streets, and open spaces to create an inviting, walkable, environment.
---
MARCH 17, 2008
KDB CAMPAIGNS FOR A GREENER DEKALB
Great American Cleanup to Focus on Fresh Start

DECATUR- Keep DeKalb Beautiful (KDB) will participate in Keep America Beautiful's Great American Cleanup initiative on Saturday, April 19, 2008 from 9 a.m. – 1 p.m. KDB is Campaigning for a Cleaner, Greener DeKalb by asking DeKalb citizens and neighborhoods to support the Great American Cleanup.

Community groups can participate by cleaning up dirty streets, waterways, and illegal dump sites; as well as by greening up parks, schoolyards, MARTA bus stops and other public spaces in DeKalb County. KDB will provide supplies such as garbage bags, brown reuse bags, plastic gloves, pick-up sticks, safety vests, and t-shirts, as supplies are available. Pick-up sticks and safety vests will need to be returned. This year KDB is also offering supplies to complete storm drain curb-marking projects.

If you are interested in participating for this event you must register through KDB. To obtain a registration form or learn more about event details, please contact KDB at 404-371-2654 or visit www.co.dekalb.ga.us/beautiful.

Last year, KDB successfully removed 41,020 pounds of litter from 130 miles of DeKalb County roadways, with the help of over 70 community groups.
---
STATE OF GEORGIA NEWS
---
MAY 2, 2008
HANK JOHNSON TO RUN UNOPPOSED FOR FOURTH CONGRESIONAL DISTRICT
ATLANTA--Hank Johnson is the only candidate to qualify for the 4th Congressional District seat in the US House of Representatives. This is the seat that represents DeKalb County and Tucker, Georgia.
Congressman Johnson will be running for re-election. He has been in the House for two years after winning the Democratic primary in 2006 against Ms. Cynthia McKinney. He won the general election with 75% of the vote.
Johnson is a Democrat who was a Commissioner on the DeKalb County Commission serving on the Budget Committee before running for Congress. He is a member of the House Armed Services Committee, the House Committee on the Judiciary, and the House Committee on Small Business.
Before becoming a Commissioner, Johnson served as Special Master for the Georgia Supreme Court, Georgia State Court Judge, Magistrate Court of DeKalb County Judge, and a practicing attorney as a partner in Johnson & Johnson Law Group LLC.
Hank is married to Mereda Davis Johnson, Esq. and has two children.
Congratulations to Congressman Johnson!
---